A brand new series! Every week I will give you the lowdown on what is awesome on the web. Fair warning, it may lead to procrastination.
Dream Controlling App: This Inception-y App called 'Dream:ON' allows you to choose your dreams by playing 'soundscapes' designed to create your desired dream while you're asleep. From the screenshot, you can tell there are some pretty cool dreams to choose from. You can also keep a log of what you've dreamed about and share it on facebook and other networks. It's creepy though, the way you can just hand over your subconsciousness to an app. Huffington Post has a detailed article here.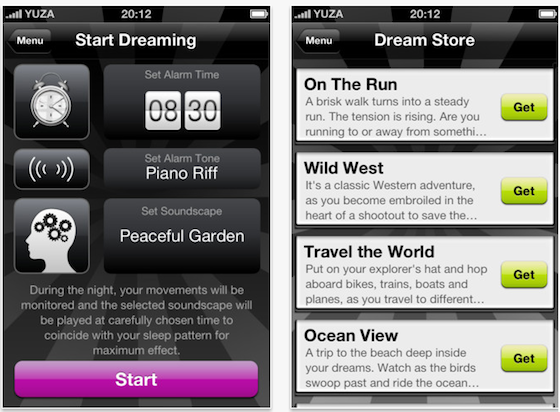 Know Who's Tracking You On Chrome: You aren't new to how websites and companies and other malicious things in general track your web surfing. Now using this nifty plugin called Collusion, you can see which sites have dropped tracing cookies on your system. Lifehacker tells you more.
Bacon Flavored Sundae: Ice cream warms the heart. Everyone knows that. But taking ice cream to a whole new level is Burger King, debuting their Bacon flavored sundae at Nashville in the US state of Tennessee. For USD 2.49 you get vanilla ice cream, chocolate syrup, caramel sauce and a piece of bacon to top it off. You can read Adam M's review of it on GrubGrade. (It's snagged a score of 8.00 on 10 apparently)
Epic Business Card: Now this is a business card if there ever was one. It's bound to be noticed and boy is it direct. It's designed by The Uprising Creative, whose director Jeff Nicholas says their motto is "we make cool shit". You sure do.
Lickable Elevator: Taking a cue from Mr. Wonka, baked goods producer McVitie's has created the world's first 'lickable elevator' using 1,325 Jaffa Cakes. This elevator took around four weeks to install at London based communications company, Engine. This campaign developed by London based agency, Mischief sounds rather disturbing, and not to mention unhygienic. Read more about it over at The Sun.